Camp iRock was named a finalist for the 2017 Dick and Tunky Riley WhatWorksSC Award for Excellence.
The Riley Institute at Furman University and South Carolina Future Minds presented the WhatWorksSC Awards during a luncheon in Columbia on October 24. Former U.S. Secretary of Education and South Carolina Governor Dick Riley presented the awards, which are given annually to education initiatives improving the lives of students in South Carolina.
Camp iRock is a free summer camp for rising 2nd-4th graders who read below grade level, with the goal of minimizing summer learning loss, promoting literacy and improving attitudes about learning. It is a partnership of United Way, the YMCA and the School District of Pickens County. As a finalist, Camp iRock was awarded $1,000 to support its ability to share its story and expand throughout South Carolina.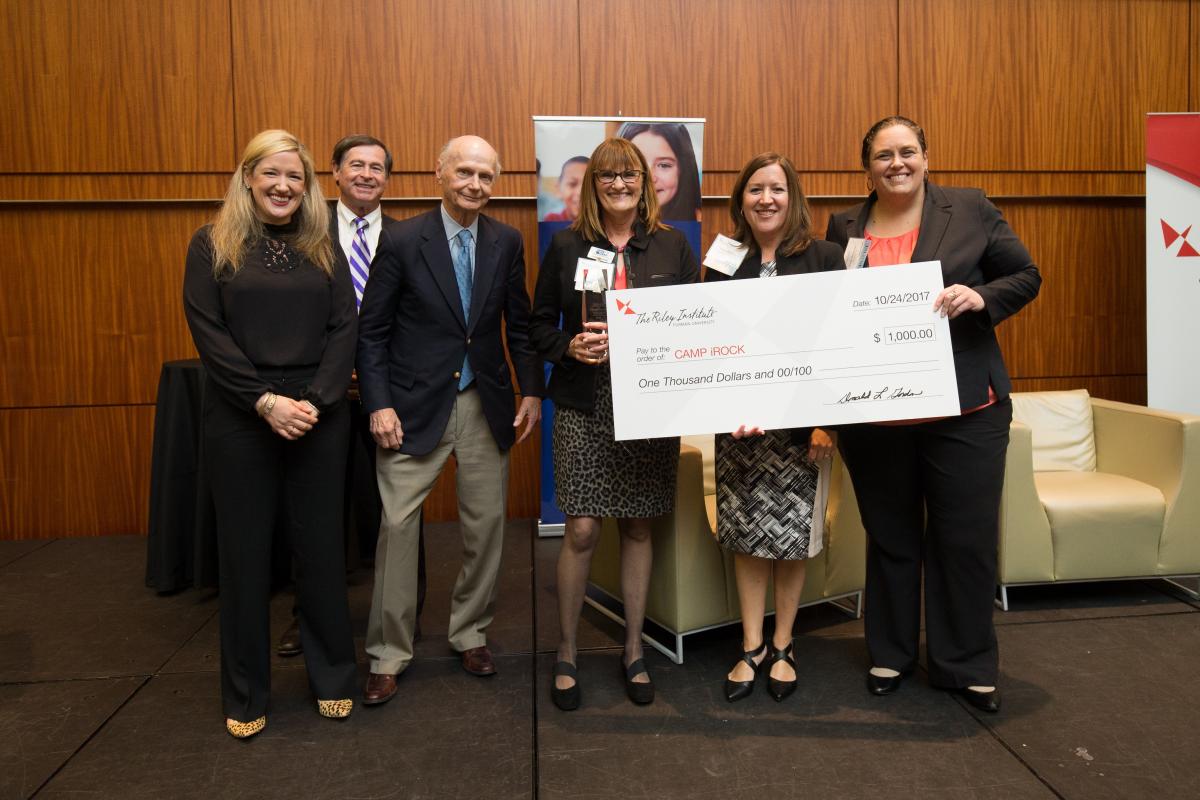 Fellow finalist, Innovate!, a program at A. J. Whittenberg Elementary School in Greenville which helps at-risk children by providing academic instruction, creative teaching, mentoring, and various enrichment opportunities year-round, also received $1,000, while the top award recipient, Make Summer County, a program of Public Education Partners in Grenville that combats summer learning loss by encouraging students and families in 29 higher-need public elementary schools to remain engaged in reading through the summer by providing free and new books to take home and by hosting 23 Family Reading Nights, received $5,000.
"South Carolina sets the example in so many good ways- we just need to do a better job of talking about it. We honor and celebrate these three programs today for improving the lives of students across our state," said Riley.
A panel of judges not affiliated with the Riley Institute selected the three finalists from more than 100 entries in the Riley Institute's WhatWorksSC clearinghouse, an online tool that showcases initiatives that explore and exemplify key strategies for improving South Carolina's public schools.
The Dick and Tunky Riley WhatWorksSC Award is named for Secretary Riley and his late wife, Ann "Tunky" Riley, a devoted teacher and passionate advocate for quality public education for all children.
The award presentation was sponsored by Elliot Davis, the South Carolina Association of School Administrators (SCASA), The South Carolina Education Association (SCEA), the South Carolina Education Oversight Committee (SCEOC), South Carolina ETV, and the South Carolina School Boards Association (SCSBA).