Support struggling readers through Camp iRock
The detrimental effects the pandemic has had on learning continue to be evident. This fall, only 40% of 3rd graders were on track for reading proficiency. That means a staggering 60% of 3rd graders are not ready. That is worse than when Camp iRock began in 2015.
It's much worse for 2nd graders who lost so much during their first two formative school years. This spring, a staggering 76% of Pickens County 2nd graders were projected to not read at grade level by 3rd grade.
The need to expand Camp iRock is more urgent than ever. With your help, Camp iRock will double the number of 1st and 2nd graders served at each of the three Camp iRock sites, reaching a total of 588 struggling readers this summer.
A Bold Goal
United Way of Pickens County seeks to help children and youth achieve their potential through education and has established a bold goal that 70% of 3rd graders will be reading on grade level by 2025, a goal that is more important than ever since only 40% of 3rd graders were on track for reading proficiency this fall.
Camp iRock is a proven program designed to help meet this bold goal.
Camp iRock- A Program that Works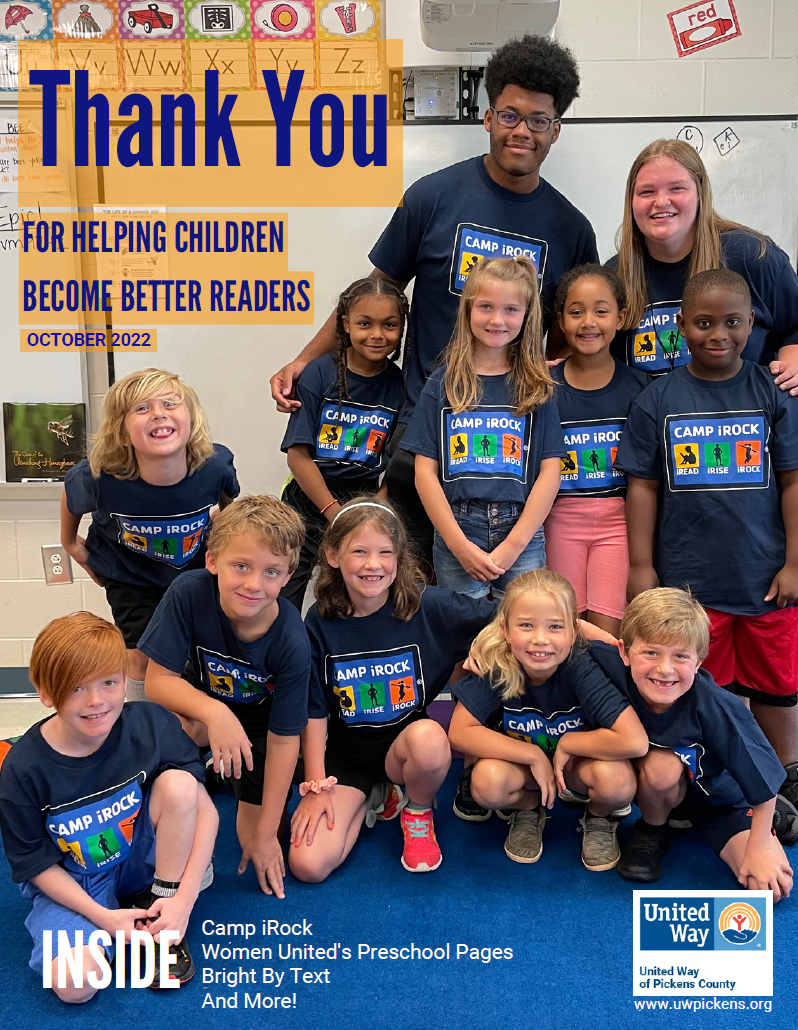 A partnership between United Way of Pickens County, the School District of Pickens County, and the YMCA of Easley, Pickens and Powdersville, Camp iRock is an innovative and award winning summer program which helps children improve their reading abilities in an enriching summer camp environment. In the spring, the School District of Pickens County identifies students who could use a boost in their reading abilities and sends their families an invitation to attend Camp iRock.
Through the incredible support of donors in this community, and the amazing creativity, flexibility and expertise of Camp iRock teachers and staff, Camp iRock continues to be a program that works and served 434 struggling readers at three sites in Pickens County last summer.
You can download and read the 2022 report (PDF) here.
You are needed for something BIG!
3rd grade reading levels predict nearly every societal problem you can imagine. Reading on grade level is so critical to our community's future that United Way of Pickens County has set a bold goal of ensuring that at least 70% of Pickens County 3rd graders will read at grade level by 2025. We know this is achievable because you have proven that you are willing to invest in programs that work. Camp iRock is one of those programs that work.
60% of Pickens County 3rd graders are behind. Will you make sure that one struggling reader is able to benefit from the Camp iRock experience next summer?
Be a Reading Buddy Volunteer
Make a difference in the life of a camper as a Reading Buddy. Volunteers are needed to work one on one with campers to enhance the classroom learning. Camp iRock takes place June 5-29, and Reading Buddies are asked to spend 30 minutes once or twice a week at one of the three Camp iRock sites.
"Camp iRock is the best thing for a struggling kid."
As a baby, Dottie would crawl away from her parents when they tried to read books to her. Reading was never something she enjoyed, and was never something she thought she could do well. Camp iRock changed all of that, and it nearly brought her father to tears to talk about the transformation. Hear Dottie and her parents tell their story by watching the video below.
What Others are Saying
"We are in the process of adopting two children through the foster care system. When we first met the children, they had been living in cars and motels. Reading was a tremendous struggle because they had very little knowledge. Thank God they got into Camp iRock. They are ready and waiting for the bus at least 30 minutes before it is due. Both children have made tremendous progress at Camp iRock."
Camp iRock parent
"I cannot think of a better team of dedicated professionals. They have transformed the way our school district addresses this dire need in our community. They have developed a model that helps our students in ways we could have never thought possible. I am very proud."
Dr. Brian Swords, Director, TriCounty Technical College Easley Campus, and member of the School District of Pickens County Board of Trustees
"The Camp iRock model illustrates how a community can collaborate to improve reading achievement for struggling students. The collaboration between the School District of Pickens County, United Way of Pickens County, the local YMCA and Clemson University's Call Me Mister Program maximizes the resources and assets of the community. The state needs more examples of such collaboration to help struggling learners get back on the path to academic success. Camp iRock is unlocking a child's ability to learn and read, and thus helping to ensure that one day, they will be graduating college and career ready."
South Carolina Education Oversight Committee
"We took our granddaughter into our home because her mother couldn't care for her. She barely passed 1st grade and most likely would be held back in 2nd grade. Then she went to Camp iRock. Honestly, in the beginning she really struggled with the reading and wanted to quit. But she LOVED the camp part. That is what kept her going. By the end of the summer she was a different kid. Her first report card arrived today. All A's and B's for the first time in her life. There are no words to describe how excited she was."
Camp iRock grandparent
"What I love most about Camp iRock is the reading. The Y counselors are really cool. When I don't know a hard word, everybody helps me figure it out. It's awesome. I've really improved my reading a lot. My favorite field trip was the Clemson Botanical Garden. I learned all about this black and white butterfly."
Camp iRock camper
"It's exciting to me to see how much the children have accomplished. They have made so much progress in listening, comprehension and sharing what they've learned. Now they can't wait to read!"
Camp iRock teacher
Previous
Next